YG's girl group BLACKPINK's MV for 'PLAYING WITH FIRE' surpassed 200 million views on YouTube.
The MV reached 200 million views on the 31st, at approximately 9:50 PM.
The MV for 'PLAYING WITH FIRE' released back on November 1, 2016, surpassed 10 million views in 3 days and 3 hours since its release and reached 100 million views in 5 months, showing a rapid increase in popularity. They set a milestone once again, by reaching 200 million views in 1 year and 5 months.
YG Entertainment revealed a special congratulatory poster to celebrate the 200 million view count for 'PLAYING WITH FIRE', through their official blog(www.yg-life.com).
BLACKPINK's title song 'PLAYING WITH FIRE' from their second digital single 'SQUARE TWO' is a song in a tropical house genre, which metaphorically states a girl's heart that abruptly fell in love into playing with fire. The lyrics that express love into 'PLAYING WITH FIRE' received empathy from the public, and was loved by many fans.
'PLAYING WITH FIRE' proved its global popularity by reaching no. 1 in QQ Music's K-Pop Music Chart, in China's largest music platform with over 400 million users per month. The Japanese version MV was also revealed thanks to the song's popularity and gained interest from various countries including Japan.
BLACKPINK has once again proven their reputation as 'view count fairies'.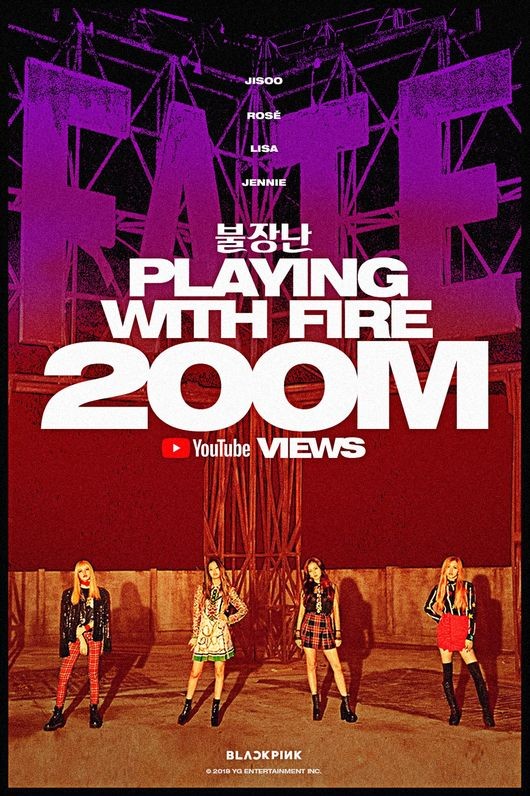 Their debut song 'BOOMBAYAH' and 'AS IF IT'S YOUR LAST' is heading for 300 million views. 'WHISTLE' is at almost 200 million views, while the double title song 'STAY' along with 'PLAYING WITH FIRE' in 'SQUARE TWO' is close to 100 million views.
As a girl group presented by YG in 7 years, BLACKPINK is gathering attention from fans in and out of Korea by setting another milestone. The entire K-Pop scene is paying close attention to what kind of new milestones 'view count fairies' BLACKPINK will achieve in the future, as they have 4 MVs that reached 100 million views in 1 year since debut.
BLACKPINK has recently finished recording their new album and is getting ready to make comeback in the K-Pop scene.
via
Official YG